Catering
25 March 2023
Hooray, today we celebrate national waffle day. Or at least if we live in the good ole US of A we do. I think they have more national food days than the rest of the world combined. Although evidently the Scandinavians also celebrate it on the same day as part of the Feast of Annunciation.
The date actually celebrates the granting of the first electric waffle patent to
Cornelius Swarthout of Troy New York. On 24th August 1869 he was granted the first patent on an electric waffle iron.
Now waffles had been around well before this date, being eaten in the 14th Century. But his invention made waffles easier and more consistent to prepare.
Eaten throughout the world, a waffle is a dough cooked between two patterned plates. The dough bakes in the waffles characteristic uniform impressed surface.
Belgian Waffles
The best known, and probably oldest waffles are the Belgian type. Tending to be round, although we have seen square and heart shaped versions. These are usually a sweet dessert type mixture, ideal with fruit and chocolate or cream. There is however a savoury mix available so they can be served with cheese and meats.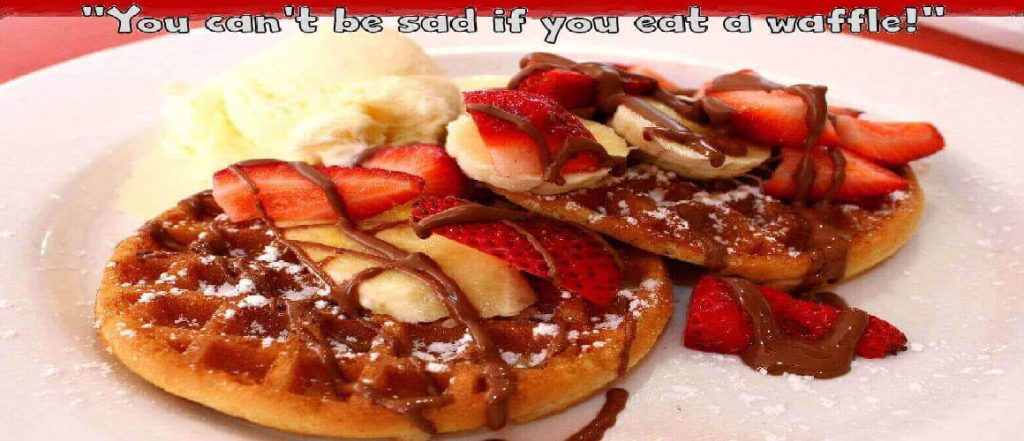 Stick or Lolly Waffles
Gaining in popularity, due in part to being easy to eat are stick or lolly waffles. The same sweet mixture as a Belgian, they are baked in a waffle iron that produces a tubular lolly shape, the mixture is poured around a stick, so once backed they are held like a lollipop. Usually we dip the waffle in molten chocolate, then into one of a range of toppings such as chopped nuts, candy sprinkles etc.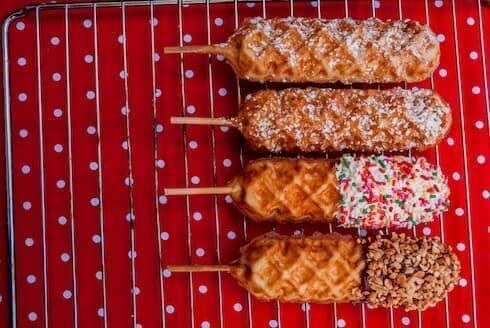 Bubble Waffles
Another new variant is the bubble waffle. Baked on an iron that produces a bubbled surface, they are then wrapped into a cone and the toppings poured into the centre of the waffle.
Whichever is your favourite waffle on national waffle day, we can provide one of our range of carts to serve freshly prepared waffles for your guests or colleagues. From a small party of 50 or so, to a major sales event numbering in the thousands, we can cover all of them.
Recipe
If you want to make your own, a basic recipe is below, you will need a preheated waffle iron.

Ingredients
2 cups all-purpose flour
3/4 cup sugar
3 teaspoons baking powder
2 large eggs, separated
1-1/2 cups whole milk
1 cup butter, melted
Fresh fruit, cream, chocolate, your choice of toppings.
Directions
In a bowl, combine flour, sugar and baking powder. Seperately, lightly beat egg yolks. Add in the milk, butter; mix thoroughly. Add into dry ingredients just until combined. Beat egg whites; fold into batter
Add to your preheated iron and bake till golden brown
Enjoy