Fun Story, General
22 February 2019
For those who haven't seen it on the news, or social media, Mi Amigo was a
USAAF B-17 Flying Fortress that was returning heavily damaged from a raid. It crashed into trees in Sheffield's Endcliffe park. At the time a group of kids were in the park, having met up for a prearranged fight!
One of them, a gentleman called Tony Foulds, witnessed the pilot turning the aircraft to avoid the kids and sacrificing himself and his crew to save them.
Memorial To The Fallen
As he grew up, Tony started to tend to the memorial that had been placed in the park. A labour he has undertaken for 6 decades. This was unnoticed by all except a few locals. Until a chance meeting with Dan Walker. Host of a radio programme for the BBC he was jogging through the park. Noticing Tony sweeping the monument they got to talking. Tony explained what he was doing and why. He told Dan his ambition was for a memorial flypast to commemorate the anniversary of the crash. Dan told him to "Leave it to me" and decided to help. He tweeted about the meeting, asking if anyone knew how much the red arrows would cost. Dan found the story going viral, with both U.K. and U.S. military chiefs contacting him regarding the request.
A Memorial Flypast
The upshot was that on 22nd February, a number of both countries military craft flew over the park in tribute. The final flyover was 4 Mcdonnell Douglas F15 Fighting Eagles, which flew the "Missing Man" formation. This is a poignant tribute, where the flight approaches with 4 craft in close formation. One of the middle aircraft suddenly breaks away and climbs vertically, leaving the rest of the formation to fly on with an obviously missing place. This is to honour a pilot, who can no longer fly the formation due to his death, and was a fitting tribute to the heroism of a long ago pilot.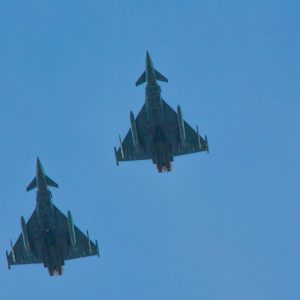 Now you might well ask, what has any of this got to do with a company specialising in Corporate Entertainment. Well, to be honest, nothing really, other than since I obtained my Private Pilots Licence I have had an increasing interest in aviation. Oh, and if it wasn't for men like the crew of that B17, this blog might well be called Zuckerwatte Verrückt (That's German for Candy Floss Crazy).