Fun Story, Photo Booths
8 April 2020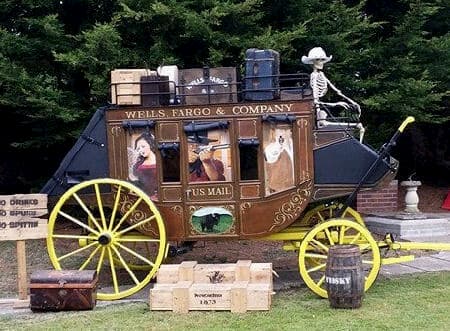 We have a number of specialised photo booths, London taxi cabs, a classic Mini Cooper, Indian Tuk Tuk. Well now we have a wild west photo booth
When looking for new lines we hit upon the idea of a Wild West photo booth. We looked at various saloon bars, a teepee, but decided that the most classic wild west 'vehicle' had to be the Concord stagecoach. Just like John Wayne in the classic film.
Luckily, we have a member of staff that happens to be a whizz, with wood. So, after some research, and finding some stagecoach plans (albeit for a model coach), we managed to create a workable blueprint.
The Build
When we started, in fairness, we didn't actually realise the amount of work we were letting ourselves in for. But the initial body shaping looked spot on, and kept us reassured we were on the right track.
The initial body shape came together well, because the body curves in 2 planes, it was difficult to shape, but after some intensive work, we got it together into the basic body.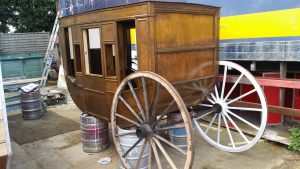 This about finished the body, other than the interior. We didi think that was the bulk of the work done, until we actually started assembling the chassis.
The Chassis was actually quite complicated, as we tried to follow the real things metalwork, with a working handbrake, and the correct slings and fittings.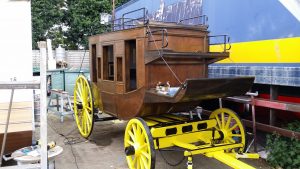 All in all it was a long complicated build, but it has given us a totally unique photo booth, perfect for those wild west events.