Photo Booths
15 February 2020
We recently provided a classic black cab photo booth for a birthday party. At the Joe Macari car dealership in London.
Now this isn't just any old dealership. A quick look at his stock inventory will show a who's who of classic high end cars. Lamborghini Countach, Jaguar E Type, Ferrari California, the list just goes on.
Really its like a petrol heads dream. He even has some quirky items like the Lamborghini LM002 SUV, of which only about 328 were ever produced. Or how about a Lambo tractor.
Classic Black Cab Photo Booth
We installed a black cab photo booth. After setting it all up, the boss told his car detailer to polish it up. He started and laughed to me that he had cleaned some of the worlds most exclusive cars, but that was his first ever London taxi.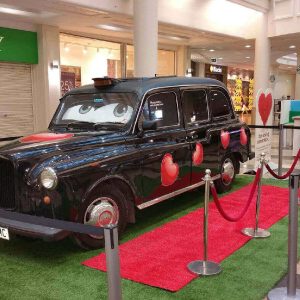 Whilst on this job, a stunningly attractive Indian lady came up, accompanied by what looked like a throwback to a 1960's groupie. Slicked back hair and the works. She looked at me and exclaimed, "Do you know what he did last week?",
"No Idea" I Said,
"He took a porn star to a red carpet event!"
Laughing he said yes, she was off fake taxi dot com. His companion inquired as to what that might be, to be told that its a porn site. Where a taxi cab exactly like ours drives around London picking up beautiful women. Who just happen to want the driver to climb in the back with them and, well you can figure out the rest.
"Yes", I said to break the tension, "I have been driving around all day and not been stopped once!".
"Thats OK mate he replied, I will give you the number for my friend"
Lol, before I could comment his companion, replied "I can do better than that, I will give him my number and he can come and pick me up."
Funny thing was he didn't seem to be too impressed by that. As I walked away for a drink they were just firing the starting salvos of what promised to be an acrimonious argument.