Catering, Event Planning, Fun Story, funfair events, Funfair Rides
8 February 2023
When You Want The Most Fun For Your Event
If you have arrived here you are looking for a dodgems ride for your event. A really nice dodgems.
Well we suppose you could want a scruffy one, something that looks like it came from the theme park at Chernobyl. In which case you really need to talk to a dodgy dodgem guy called Vladimir.
If you want the nice type then you can have a package tailored to suit you, even going as far as preparing a bridal car with ribbons and flowers to match if it's for your wedding, or adding branding for corporate hires.
Your dodgems service will be a great centrepiece for your event, designed around your requirements so you don't have to worry.
Easily the most popular ride you can have. Ideal for all age groups young and old. Everyone loves to drive a dodgem car, making them perfect for your fun day, or just about any event you can imagine.
You have the choice of a full range of track sizes in both traditional dodgems and ultra modern versions.
Don't dodge us, contact us for a quote.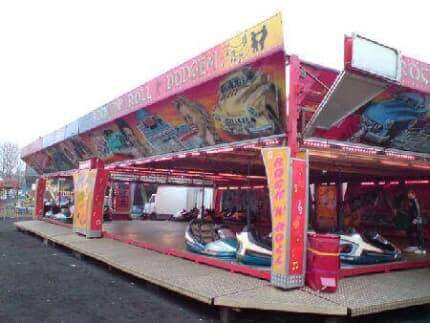 Funfair Rides, Fun For All Ages, Children And Adults.
Looking back on our long term records, this is by far our most booked fairground ride. People rent dodgems when they want maximum fun. Smaller children can be accompanied by adults, so its suitable for kids. Teenagers love it, even the older generation find it a fun experience.
Although it has to be said the aim of the ride is to 'dodge' the other cars, not crash headlong into each other, hence dodgems, (we know, we know, in the North East they call them bumper cars, but they are a hardy breed 'up North).
Together with the Carousel hire , Ferris Wheel hire  and Helter Skelter it is one of the iconic fairground rides.
We can advise you on the type and size of bumper cars rides to best suit your venue and requirements. And provide guidance on the best funfair attractions to complement your event.
You need to take into account the ages and requirements of your guests. A well presented ride has music and lighting systems. Creating a fabulous centrepiece. Easily the most popular attractions available.
If you want radioactive rides then you are gonna have to try harder to find Vlad!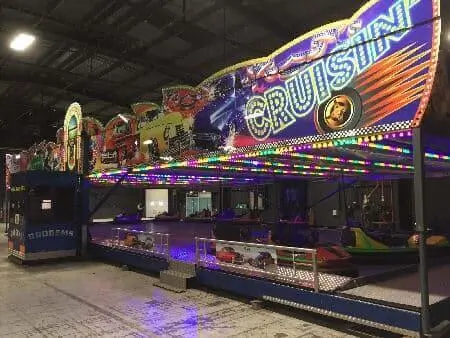 This ride works well with other offerings from our stable of entertainment including rides, games and fairground attractions;

You can have us propose a complete package for your needs when a range of fairground attractions are required, be it a company fun day, corporate event, a birthday party or you simply want to hire dodgems for a wedding.
Why not enjoy the event yourself comrade and leave the planning and stress to our team.
Hiring A Ride, What Do You Need To Know?
How much to hire bumper cars near me and dodgems hire price, are regular questions we receive, unfortunately there is no simple answer to fairground ride hire prices, as it depends on where, when and what type. The where and the when are easy to answer, the other questions might need an explanation.
There are basically 2 type of rides available, the traditional type which is supplied totally dismantled and erected piece by piece., he advantage of this being that they can be carried through small gates, over fences, even upstairs, the big disadvantage is the 6-8 hours set up time.
Commonly referred to as a continental track or modern dodgem, the alternative is a set up time of around 3 hours. These are folded up onto a centre trailer for transport tending to be more highly decorated than the traditional model, contain more elaborate lighting systems and higher powered music.
The only real drawback with a modern track is that they have to be driven into position. So it limits the venues they can be used in.
You also need to take into account the track sizes and quantity of cars required. To ensure whichever you choose will fit in your intended venue.
You need to take care when hiring rides like this. The internet is great for finding something you need,but there are plenty of cowboys operators out there, check out our short article on finding the best ride for your money.
Hire funfair bumper cars from us and you will receive details of what you will actually receive. And we definitely don't have anyone called Vladimir working here.

Check out the history of the dodgems or as they are sometimes known, bumper cars.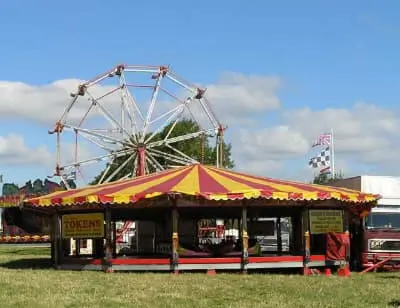 F.A.Q.
WHERE CAN I HIRE DODGEMS NEAR ME;
All types and sizes of dodgem tracks can be provided anywhere in the U.K.
WHAT IS A BEST A TRADITIONAL OR A MODERN TRACK;
The ride experience is identical, so it all comes down to whether you want a modern glitzy look, or something more traditional. Additionally access restrictions may stop the larger continental track being used.
CAN WE USE BUMPER CARS IN THE RAIN;
As long as the track come with a top cover to allow use in inclement weather. All of ours do!
WHAT IS THE DIFFERENCE BETWEEN DODGEM CAR HIRE AND BUMPER CAR HIRE;
Absolutely nothing, they are two names for the same ride, bumper cars tends to be used more in the North East.
HOW MUCH IS IT TO HIRE DODGEM CARS;
It depends on the type of track, where and when you require the ride, expect to pay between £1700 and £2500
I HAVE BEEN OFFERED THEM FOR £1500 WHY SHOULDN'T I HIRE THAT RIDE;
Like most things in like, when it seems too good to be true, it usually is!