Catering, Fun Story
15 March 2021
We are always adding new lines to what we offer. Sometimes its in response to what competitors are offering, sometimes a client makes a request, and sometimes we come up with a good idea like our Dutch poffertjes.
One of the benefits, if we can look at it that way, of the lockdown, was the fact that for the first time in a long time, we had time on our hands. We used this to take an id dept look, both at what we do, and what our competitors are doing. As a result we added a number of new additions to our range of carts, greatly expanding the styles we can offer. We added a new range of equipment to enable us to provide a quick and cost effective branding service, both for corporate clients and private events such as weddings.
Catering Lines
Looking at additions to what we should be offering, someone suggested burgers. Not the typical thin cheap burgers, but something with a bit more meat in, and a range of toppings to make them more than just a burger.
To try out the market for this, we did what we do regularly, added them to our website. The idea being that if they get a good enough response we would actually add them to our line up.
They had been on the web about 3 days, when one of our regular corporate clients rang to say they were adding them to a large series of orders they had already placed with us for December. As the client is one that we do a great deal of work with through the year, (well when there aren't rampent killer virus's sweeping through the world we do), it suddenly went from toying with the idea to we needed everything in place within about 3 days.
New Equipment
We have been here before and are quite used to putting something together on a wing and a prayer as it was. The equipment was ordered and delivered overnight. A local supplier we use already happened to do a line of high beef content burgers and brioche buns, and we quickly agreed upon a small menu of 4 or 5 different burgers for the job. For events such as weddings we intended to offer a comprehensive range of burgers, but we have found that events were we need to serve 5-600 guests in a short space of time, giving too big a choice slows things down whilst everyone tries to choose what they want.
Our Restricted Menu
For the first event we came up with;
Standard Cheeseburger (Some people just don't like fuss)
Kentucky Burger (Beef/cheese/bacon/caramelized onions)
Nacho Burger (Beef, nacho cheese, nachos, jalapeno peppers, hot salsa sauce)
Diablo Burger (Beef, cheese, caramelized onions, red and green peppers, super hot chilli sauce)
This gave us a nice selection to cover different tastes, along with some veggie burgers for the non meat lovers. The idea for smaller events would be to have perhaps a dozen options for gourmet burgers..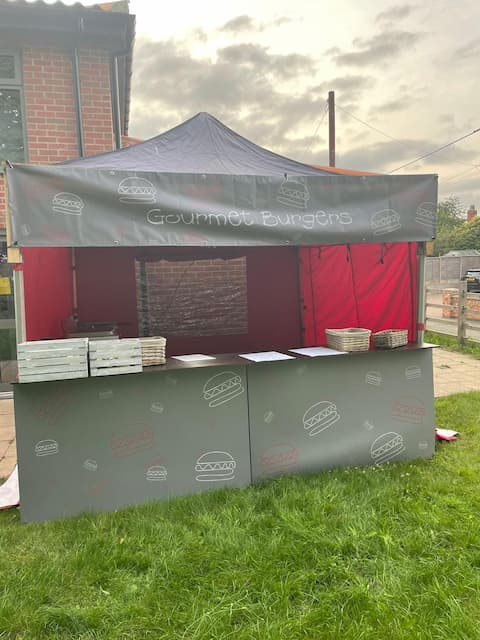 Street Food Cart
Normally at this particular clients venues we operate indoors, however we had discovered during a quick test run, that cooking the gourmet burgers created too much steam, it would no doubt have the fire alarm system in knots.
So we agreed with them that we would set up outside. Now, in the middle of June that would have been great. December had just turned bloody cold and we weren't really fancying it.
For a while one of our main staff members had been agitating to put together a more street food style range of catering stalls. In the event that worked out ideal for what we needed to do. They had more space than we had in our usual cart range. Also being more enclosed, the heat from the various cooking systems actually kept them quite warm.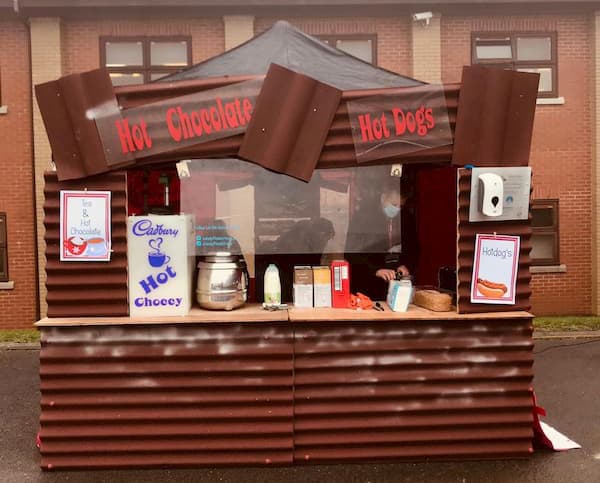 We used the stall for the event and liked it so much, we added a couple more. Then designed some wacky street food style fronts for them. These are definitely something we will be adding to whenever we get out of this lockdown. We also ended up using the stall for much more than gourmet burgers.
If you are more of a veggie type then check out our jacket potato service, something for everyone both hot and cold.