Catering, Equipment, Event Planning, Fun Story
28 December 2022
December is usually our busiest month, by quite a margin. This year it got even bigger. We picked up a contract with Amazon to provide their Peak Treats service.
Basically it consisted of visiting 70 Amazon's in 4 countries over 6 weeks, dispensing over 66000 Salted Pretzels and 15,000 litres of mulled wine (Non alcoholic sadly)
So how did it go. On the surface all serene and everyone happy.
Underneath, our usual paddling madly like ducks to make it look all serene.
Last Minute As Usual
We were notified that we had won the tender for the event. However we had to provide a sample of the food and drink for a company tasting. So obviously we didn't want to start spending money on stock etc until after the tasting just in case it all went Pete Tong.
Happily they loved the items on the tasting and everything was finally signed off, 8 days before we were due to begin. This meant we have roughly a week to design and build 6 new mini Christmas huts for the job. To buy and take delivery of high capacity boilers and pretzel warming cabinets, new mains, obtain enough stock and and sort out freezer facilities for tens of thousands of pretzels.
Building The Stalls
Luckily the local fabricator we use was a bit quiet on the work front. So we nipped some spare steel we had up to him and talked him through fabricating the frame we needed. This took best part of a day. Fortunately the cover guy we had found was in the vicinity that afternoon so he called and measured up for the covers we needed and promised to have them ready for Sunday teatime (The job started Monday morning gulp).
A quick trip to the woodyard to have the counters made, and then the paint shop to pick up our new favourite product Raptor with which to coat the steel. Nigel promised to have all the steel work ready for mid week so things were on track. Our resident wood guy measured up for the wooden panels we needed and promised to have them by Sunday as well.
Pretzel Storage
We priced up a freezer trailer hire for the pretzels, but quickly worked out we could buy a second hand unit cheaper than hiring one, so that's what we did. It was delivered about an hour before our first delivery of pretzels, so just in time, but hey, it was there. This proved to be a godsend. Not just for the pretzels, but a number of other jobs where we usually ended up disposing of stock, we suddenly found we had the storage capacity to keep it, so win win all around.
Stock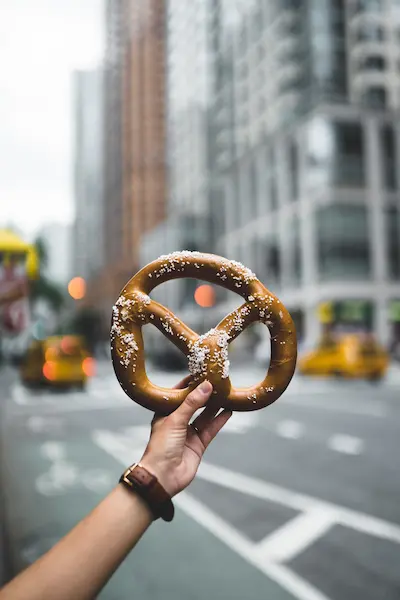 The pretzels came from a company we have used in the past who import them directly from Germany. The mulled wine was sourced initially from a localish company, which was handy, the problem was they only did them in bottles. So for the initial batch I ordered a thousand bottles. We went in one of our vans to collect the order. 2 pallets worth. The fork lift driver rubbed his beard, "Whats the payload of this van".
"About a 1.2 tonne I think", I replied.
"Ahh well 2 pallets is 1.2 tonne mate, and you too will take it a little over"
Oh FFS. "It'll be OK, stick them in"
Only it wasn't, once they were in the van towbar was touching the floor. Turns out that particular van was only a 1 tonne payload. We had to take one out and make another sodding trip. After that we sourced an alternative that came in 10 litre drums and was delivered direct to our yard.
Equipment
The equipment we sourced started out pretty well. And worked pretty well for about a fortnight. Then the warming cabinets started blowing the electric at random times. Turns out they have a design fault. The U shaped heating element in the bottom expands as it heats up. As it expands it rubs against the ide of the cabinet. Luckily it is insulated. Unluckily continued rubbing removes the insulation and then blows the electric. Quick work bending the ends of the element sorted that out.
Vans
I had all 3 of our vans serviced before we started thinking this would ensure everything was OK. Only true to form Murphy bit us twice.
On the very first day the van i was driving suddenly flashed up a warning that it was no longer charging the battery half way to the site at Rugeley. Now having owned Citroen Dispatches for a number of years I know that a failed alternator or snapped fan belt doesn't damage the engine. I also knew from past experience that as the battery voltage dropped the van computer would start to shut systems down.
Sure enough ten mile from the destination, just as I hit twisty windy country roads, the electrically assisted power steering shut down. Followed by brake assistance, lights, indicators etc.
I actually got to the venue, pulled into the usual parking bay and applied the handbrake just as the engine shut down, phew.
Now the important thing was we had got there. Getting home should have been a problem, but one of our staff, Fred, had been late getting to work. So in temper he was told he was going to have to drive his own van and meet me at the job. So we had a spare van to tow me back.
The same sodding thing happened a week later with a totally different van. Only this time it was at Dunfermline in Scotland. This resulted in us having to call at Halfords and buy 2 new batteries so that we could keep changing them on the way home to keep the engine running.
FRED
Mentioning Fred, one of our regular staff members, we have officially changed his name to Frank Spencer (If you are too young to remember Frank, check him out here) . He left a trail of destruction throughout the duration of the contract. including;
Putting the plastic chocolate sauce bottles in the electric pretzel oven to warm them up. Cue an aroma of melted chocolate and plastic!
Faffing about with the gel packs in one of our ethanol gel pretzel warmers, managing to set his hand on fire, shaking it to get the burning gel off, and successfully setting fire to one of the brand new covers on our Christmas huts.
Deciding to move the fully loaded pretzel ovens on a job and forgetting to plug them back into the electric. Resulting in a panic to get everything warmed up in time of opening.
Security
The only other real hiccup we had, was the fact that we would do an afternoon shift at Amazon, then go back for the evening shift. But for some reason, the night security never seemed to have been notified that we had been booked to do the job. Cue most evening trying to convince security to actually let us on site.